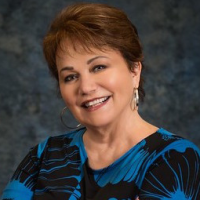 Kaylin McFarren
Thrillers, Suspense, Mysteries, Action & Adventure, Romantic Suspense, Erotic Romance, Women's Fiction
Profession

Author, Interior Designer, President of Non-Profit Organization
Kaylin McFarren has received 48 national literary awards, in addition to a prestigious Golden Heart Award nomination for FLAHERTY'S CROSSING - a book she and her oldest daughter, New York Times/USA Today best-selling author Kristina McMorris, co-wrote in 2008. Prior to embarking on her writing journey and developing the popular THREADS psychological thriller series, she poured her passion for creativity into her work as the director of a fine art gallery in the Pearl District in Portland, Oregon; she also served as a governor-appointed member of the Oregon Arts Commission. When she's not traveling or spoiling her pups and three grandsons, she enjoys giving back to her community through participation and support of various charitable and educational organizations in the Pacific Northwest, and is currently the president of the Soulful Giving Foundation - a non-profit focused on cancer research, care and treatment at hospitals throughout Oregon. Her latest release, HIGH FLYING, takes readers on an unusual time-travel adventure, which asks challenging questions that will linger long after the final twists are revealed.

FUN TIDBITS

Kaylin is proud of the fact that her great aunt Bessie B. Cordell, an evangelistic missionary during WWII, was instrumental in opening an orphanage in Tientsin, China and also wrote two published novels, Precious Pearl and Blossoms of the Flowery Kingdom, documenting her dangerous, harrowing experiences.

She keeps a glass of wine close by while writing love scenes, Kleenex on her desk while writing heart breakers, and has been known to empty a box of chocolates when she's completely stumped.

A consummate "pantser" and perfectionist, she writes and edits as she goes, and uses photographs of models and actors from tabloid magazines to visualize her characters.

She loves her husband of 46 years dearly. However, if Josh Holloway, Hugh Jackman or Ian Somerhalder came knockin', well... their marriage just might be put to the test.
A literary academic can no more pass a bookstore than an alcoholic can pass a bar.
Carolyn G. Heilbrun